The bdla has set itself the goal of giving the young landscape architecture scene a stage in the form of an exhibition: FRISCHGRÜN21 - the exhibition of young landscape architecture
In 2021 - based on a competition for young office owners in Germany - the FRISCHGRÜN21 exhibition was created, which conveys an impression of the special structural and design quality of young landscape architecture and its authors, who present themselves in the form of portraits in pictures and text.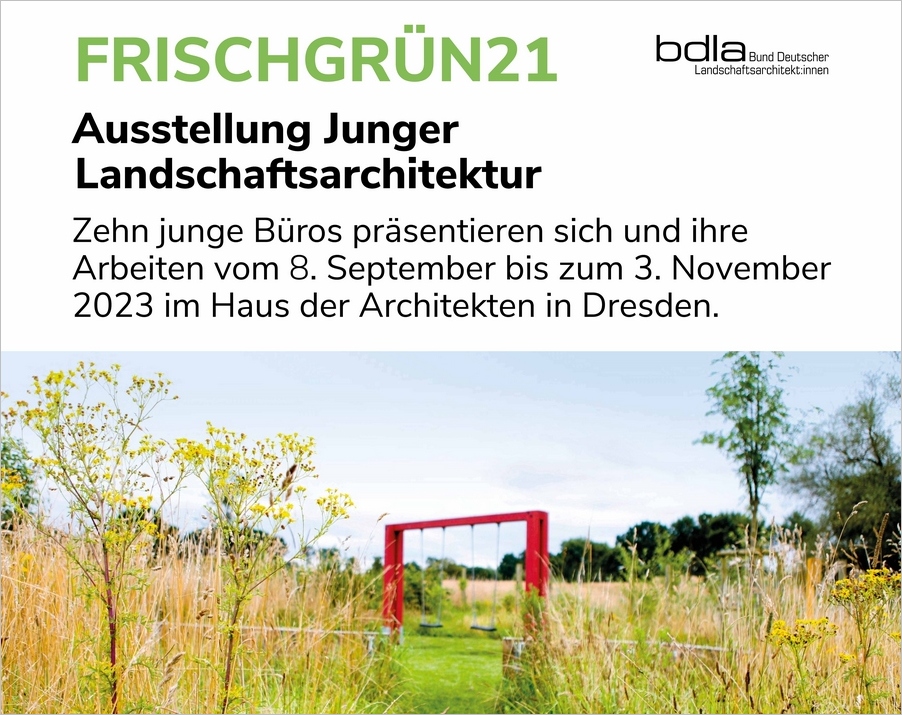 Nach Stationen auf der BUGA in Erfurt und an der Technische Hochschule Ostwestfalen-Lippe in Höxter wird die Ausstellung "FRISCHGRÜN21" nun vom 8. September bis zum 03. November 2023 im Haus der Architekten in der Goetheallee 37 in Dresden gezeigt.
Am 26. Oktober 2023 findet ab 18.00 Uhr eine lockere Podiumsdiskussion in den Räumlichkeiten der Architektenkammer Sachsen statt, bei der Landschaftsarchitekt:innen verschiedener Generationen über die besondere Rolle und Qualität der Arbeiten junger Büros diskutieren. Ihre Erfahrungen und Standpunkte teilen GRIEGERHARZERDVORAK aus Berlin und Irene Lohaus, Professur Landschaftsbau, Institut für Landschaftsarchitektur TU Dresden / Büro Lohaus Carl Köhlmos.
Information and Registration
www.aksachsen.org/veranstaltungen/haus-der-architekten/frischgruen21/
Contact
info@bdla.de