Business expectations among architects very restrained
In the period from May 15 to June 16, 2023, the state chambers of architects surveyed their self-employed and employed members online about the economic situation and other professional policy issues. A total of 15,659 chamber members responded.
A partial analysis of the responses of 5,960 self-employed members on their assessment of the economic situation, published in advance, now shows that the business situation in Q2 2023 is quite stable, but future business expectations are very subdued.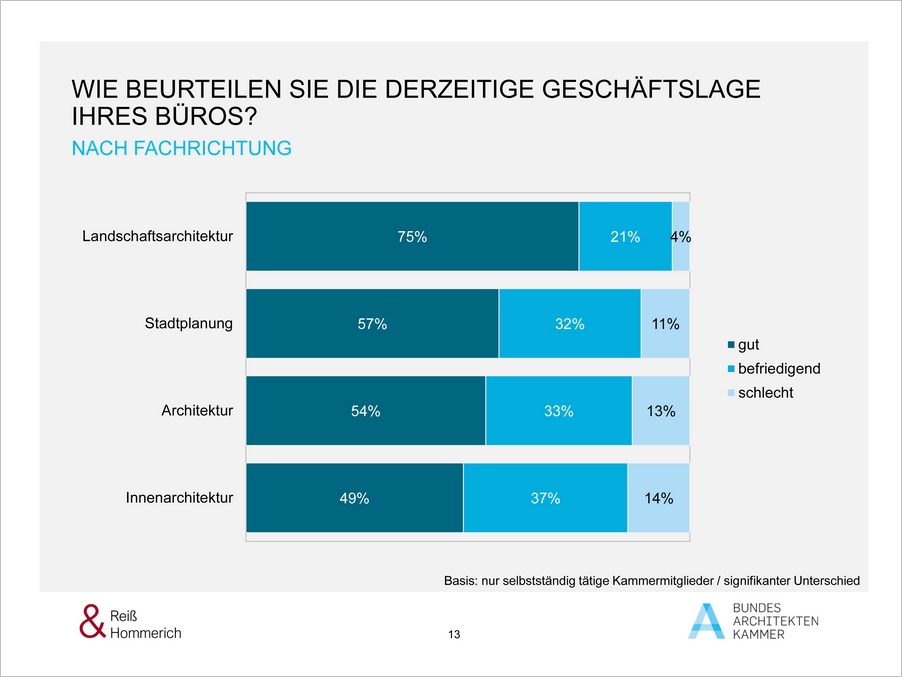 According to the BAK, the reasons for the economic slowdown are that the shortage of orders in the construction industry has increased, which means that new orders for architects are also declining. Causes are among other things building cost increases, the interest development and changed promotion conditions, which make the building activity more difficult.
From view of the bdla also the differentiated view of the investigation is interesting, shows it nevertheless that Landschaftsarchitekt:innen can be pleased particularly frequently about a good business situation.

Mario Kahl, bdla national managing director
The most frequently cited challenge for 2023 is rising construction costs, followed by deferred orders or project pauses, delayed approvals by the construction administration, lack of availability of craft and construction companies, inflation and delays on the construction site due to staff shortages of construction companies.
A detailed results report with all surveyed topics will be published in the fall.
Latitude:

0

Longitude:

0