Election call for the election of the 11th Assembly of Representatives of the Berlin Chamber of Architects
UI-Optionen:

Sponsorenfeld

Anzeige Text im Grid:

Nein
Have an active say in the future of the Chamber! From 12 February to 19 March 2021, all Chamber members can cast their vote and elect the members of the Representative Assembly.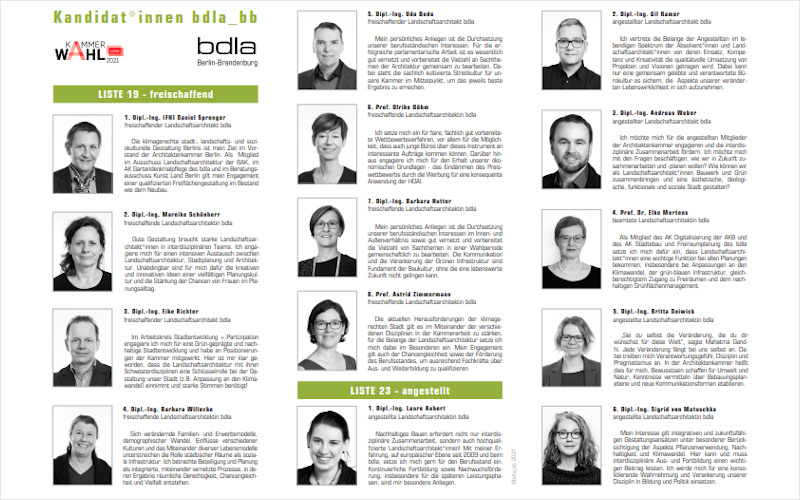 The bdla-bb enters the election with 2 lists.
List 19, freelance landscape architects bdla and
List 23, salaried / civil servant landscape architects bdla
The bdla has actively represented the interests of landscape architecture in the AKB since its foundation. We owe our many years of professional political work to the very special personal commitment of our colleagues. We have succeeded in actively contributing our professional aspects to more than 20 committees, from the VV to the board, and in continuously increasing the political relevance of good landscape architecture for the resilience of cities and the countryside. Questions of health, as well as climate, have not only been in focus since Covid19.
We still have a lot to do, we would be happy if we can win your vote for us.
In our chamber work, we always keep an eye on securing our professional practice, also for smaller offices and offices in the process of being established, through open competition and fair award procedures as well as their adequate remuneration. Digital change and the growing expectations of a good working environment are changing our working environment and office culture. As part of a follow-up initiative of the AKB, we support the development of appropriate office and work structures.

The current HOAI amendment requires a clear commitment to securing appropriate remuneration for our services. We are working hard in the Chamber to ensure that the basic principles of the HOAI, such as the allocation of fee zones, continue to be taken into account and that any infringement on the part of the client is objected to.

We are fighting for the legal regulation of the preparation of public-law plans and construction documents by appropriately qualified professionals, for example by means of a professional reservation for freelance services in the ecological, social and constructional provision of public services. We are currently fighting for the inclusion of a binding qualified open space plan in the Berlin Building Code and the Building Procedure Ordinance (BauVerfVO), with the professional reservation for landscape architects. The qualified open space plan is a suitable instrument for the climatic, ecological and functional spatial integration of building development from existing to new buildings and for the enhancement of the overall project in terms of building culture. Its introduction would send an effective signal beyond Berlin.
The bdla is standing for election

with List 19 with the freelance landscape architects:

Daniel Sprenger, Mareike Schönherr, Eike Richter, Barbara Willecke, Udo Bode, Prof. Ulrike Böhm, Barbara Hutter and Prof. Astrid Zimmermann and

with list 23 with the salaried / civil servant landscape architects:

Laure Aubert, Gil Ramer, Andreas Weber, Prof. Dr. Elke Mertens, Britta Deiwick and Sigrid von Matuschka.
Latitude:

0

Longitude:

0
---
Landscape Architecture
Announcements
Association