FRISCHGRÜN21 – Ten young offices exhibit and introduce themselves
FRISCHGRÜN21 - 13 years after the exhibition of the same name by the bdla Berlin-Brandenburg, a nationwide presentation of the young landscape architecture scene will "hit the market" this year, to be seen from 7 July 2021 at the BUGA in Erfurt and on the web.
---
Young offices between Sylt and Oberstdorf, Isenbruch and Görlitz were invited by the bdla at the beginning of the year to draw a picture of the creativity, innovation and vision of young landscape architects in Germany with their project submissions.
On April 12, 2021, after reviewing all the documents, a five-member selection committee chose ten offices to present their project(s) and the office on large-format presentation boards.
Among them are SOWATORINI Landschaft, elo Gärten, Lysann Schmidt Landschaftsarchitektur, impuls Landschaftsarchitektur, gornik denkel landschaftsarchitektur, GM013 Landschaftsarchitektur, Lohrengel Landschaft, Parzelle X - Büro für Landschaftsarchitektur und Naturpädagogik, GRIEGER HARZER Landschaftsarchitekten and fabulism. Jury member Laura Vahl, owner of the LAVALAND office and professor of representation and design at the Berlin University of Applied Sciences, is certain that the project show will convey the special structural and design quality of young landscape architecture.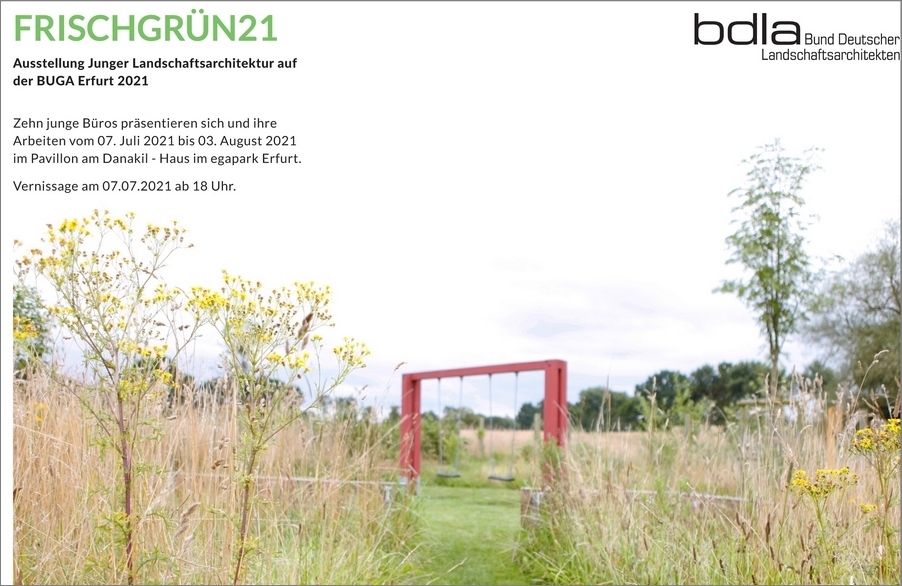 The ten young offices and their work will be open to the general public from 7 July 2021 to 3 August 2021 in the bdla Thuringia pavilion at egapark Erfurt.
In addition, the new cluster FRISCHGRÜN21 on the platform Landschaftsarchitektur-heute.de is in the making, which gathers the best plans and realized projects of the young landscape architecture scene on the web and goes online on the occasion of the exhibition opening.
---
With the friendly support of
---