Garden perspectives - Green prospects for building culture?
UI-Optionen:

Sponsorenfeld

Anzeige Text im Grid:

Nein
How can building and garden culture shape liveable cities? What challenges does the development and rehabilitation of historic parks bring? Do garden initiatives strengthen common identities and the capacity for democracy? How is garden knowledge passed on to the next generation?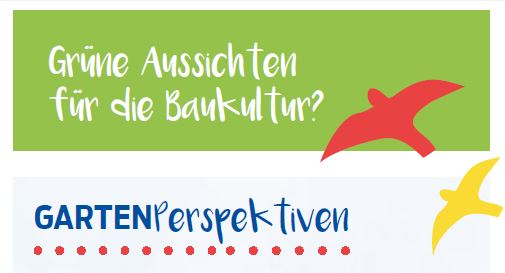 These and other questions are the focus of "GARTENPerspektiven: Green prospects for building culture?", a symposium of the Netzwerk Baukultur Niedersachsen e.V. and the Gartenregion Hannover. Both initiatives are celebrating their 10th anniversary this year. They are supported by the Herrenhäuser Gardens and the Lower Saxony Ministry for the Environment, Energy, Building and Climate Protection.
Date: 27 September 2019
The morning is reserved for the professional audience. In this context, the bdla Lower Saxony and Bremen will present its contributions to green infrastructure, which were carried out under the title "Lust auf Grün" in the context of the last architecture times. Interested citizens can also take part in the excursions in the afternoon. Contents are Hanover's application for the Capital of Culture 2025, current projects of Hanoverian housing construction companies, construction sites in the Great Garden Herrenhausen, the redevelopment of the City Park Hanover, two new public parks on the Leine, the International District Gardens Hanover, the redesign of the promenade on the Hohe Ufer as well as children's and youth projects on garden knowledge. In the evening the Netzwerk Baukultur in Niedersachsen e.V. invites to the anniversary reception and visit of the illuminated
Welcome at 10.00 o'clock by
Ronald Clark, Herrenhäuser Gärten, Director
Olaf Lies (video message), Lower Saxony Minister for the Environment, Energy, Building and Climate Protection
Christine Karasch, Hannover Region, Head of Department for the Environment, Planning and Building
Prof. Dr. Bernd Krämer, Building Culture Network
Statements at 11.00 a.m.
Ina Bimberg, Förderverein Bundesstiftung Baukultur, Board of Directors, Landscape Architect bdla,
Gwendolyn Kusters, Architektenkammer Nds., Board of Directors, Landscape Architect bdla
Prof. Dr. Martin Prominski, Leibniz Universität Hannover, Institute for Open Space Development, Landscape Architect bdla
Götz Stehr, Deutsche Gartenamtsleiterkonferenz GALK e.V., President
Prof. Dr. Markus Jager, Leibniz University Hanover, Dept. of Building and Urban Development History
Gotthard Storz, Landscape Architect bdla, Chairman bdla Lower Saxony Bremen,
Bus excursions from 13.30
Information as download
Participation is free of charge. Bicycles will be provided for excursion A4. Binding registration until September 13, 2019.
Organizer/Cooperation partner
Garden Region Hannover
Netzwerk Baukultur in Nds. e.V.
Herrenhäuser Gärten
Lower Saxony Ministry for the Environment, Energy, Building and Climate Protection
Latitude:

0

Longitude:

0
---
Landscape Architecture
Announcements
Association