Landscape architects from different generations discuss on October 26
From September 8 to November 3, 2023, the bdla is presenting its "FRISCHGRÜN21" exhibition at the Saxony Chamber of Architects.
Ten young landscape architecture firms that have distinguished themselves through their work in recent years will present planned and realized projects and themselves. The show conveys an impression of the special structural and design quality of young landscape architecture and its authors.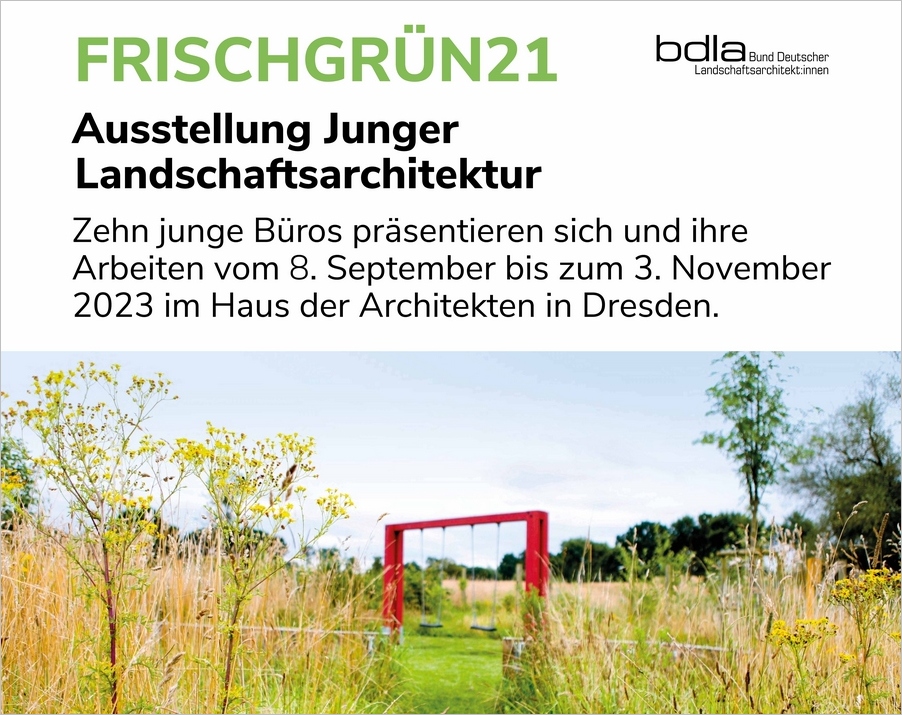 Am 26. Oktober 2023 findet ab 18.00 Uhr eine lockere Podiumsdiskussion in den Räumlichkeiten der Architektenkammer Sachsen statt, bei der Landschaftsarchitekt:innen verschiedener Generationen über die besondere Rolle und Qualität der Arbeiten junger Büros diskutieren. Ihre Erfahrungen und Standpunkte teilen GRIEGERHARZERDVORAK aus Berlin und Irene Lohaus, Professur Landschaftsbau, Institut für Landschaftsarchitektur TU Dresden / Büro Lohaus Carl Köhlmos.
Haus der Architekten
Goetheallee 37
01309 Dresden
Information and Registration
www.aksachsen.org/veranstaltungen/haus-der-architekten/frischgruen21/
Contact
info@bdla.de