Accessibility in the outdoor area
UI-Optionen:

Sponsorenfeld

Anzeige Text im Grid:

Nein
Since 2013, the Bavarian state government has been working hard to advance the issue of accessibility, with a particular focus on mobility, education and state buildings that are accessible to the public.
We spoke to Christine Degenhart, President of the Bavarian Chamber of Architects, and Oswald Utz, Honorary Commissioner for the Disabled of the City of Munich, about how this ambitious goal can be achieved and how far they see the process progressing.
In five years, Bavaria is supposed to be barrier-free, that sounds very ambitious. How far do you think the process has progressed as far as landscape architecture and urban planning - i.e. outdoor space - are concerned?
Christine Degenhart: Accessibility in the classic sense, as we know it from building construction - i.e. with continuous accessibility and usability - will not exist in its entirety in either landscape or urban planning. The existing structure provides decisive guidelines due to topography, special features of the natural environment or urban spaces that have evolved over centuries. In most cases, these cannot be changed. And often a fundamental change does not make sense either. With good ideas and the courage to compromise, however, solutions can be created successively for people with disabilities and elderly people, above all in a context-oriented manner, which are worth living in.
Oswald Utz: There are individuals who are committed to our concerns. We cannot speak of a general process, on the contrary. It is still my experience that landscape architects who are very committed to barrier-free construction are still smiled at by their colleagues. Only through the commitment of qualified supervision is a tendential implementation possible. As far as I know, only a few architects have completed the additional training as experts for barrier-free planning and building. A small ray of hope and support can be these recommendations for action that were developed in Munich.
Can urban design actually be weighed against the needs of people with disabilities? Whereas there is neither THE good urban design nor THE needs of people with disabilities.
Oswald Utz: A good urban design must take into account the needs of all people. The aim must be to integrate the needs of different groups in such a way that barrier-free design also creates a sense of well-being among users. For an ambitious planner, there is no contradiction between design and barrier-free implementation; on the contrary, he or she can develop creative solution options while taking into account the applicable standards for barrier-free planning and building. Since the standards mainly specify protection goals, they hardly restrict his design freedom.
Christine Degenhart: The design of public transport and open spaces is always a process of consideration. Accessibility is one aspect of many, some of which are highly safety-relevant. The diverse objectives must be processed in the planning process in such a way that a viable, economical and, in terms of good urban design, appealing overall concept is created.
Thus, the focus is not on the conflicting of goals, but on the definition of goals and their sensible implementation.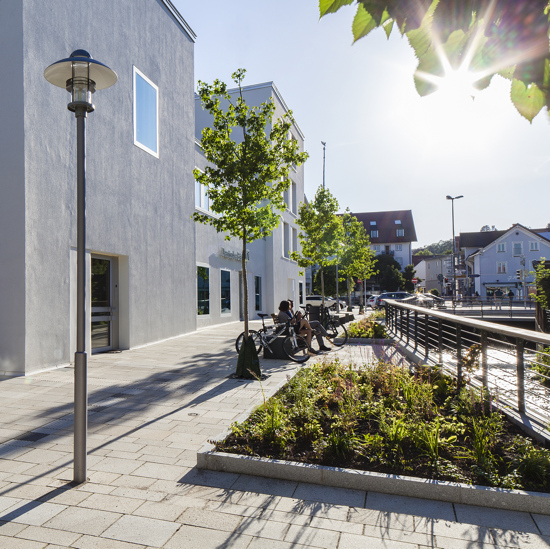 Ideally, the construction method should take into account the demands of the users and those of the design. Are there already successful examples that have impressed you? And where do the greatest difficulties currently still exist in practice?
Christine Degenhart: Successful examples - they exist! For example, the efforts of many municipalities to equip public transport and open spaces with accessibility for blind, visually impaired and mobility-impaired people alike. What is remarkable about this is the naturalness with which the accessibility decided in the municipal parliaments is implemented in conversion and renovation measures. Individual projects should also be mentioned. Some of them bear the Signet Bayern barrierefrei (Bavaria barrier-free), which is awarded by the Bavarian State Government for concrete and remarkable contributions to accessibility. Recently, I was able to visit a particularly successful project, also in terms of building culture: the "Chinese Wall" in the spa gardens of Bad Kötzting, planned by lohrer.hochrein Landschaftsarchitekten und Stadtplaner GmbH - an approximately 180 m long wall that is part of a barrier-free connection between the southern town and the spa gardens and also connects the railway line with a small bridge. The greatest difficulties in cities and municipalities often lie in the lack of an overall view. Without an analysis of the current situation, packages of measures and their prioritisation, barrier-free accessibility often remains a piecemeal approach or is not tackled at all. Boundaries of responsibility are and remain a reality. Even with optimal planning, municipalities cannot assume that the owners of private properties will support all the projects that would be necessary for seamless development.
Oswald Utz: There are some approaches and encouraging examples. But I am not yet aware of any successful examples that have impressed me. Perhaps we will now succeed in the newly developing landscape park in Munich-Freiham. The design gives me confidence for the first time.
How do you assess the issue of uniformity? Some association representatives are calling for uniform guidance systems from Hamburg to Munich - similar to Deutsche Bahn. This is understandable from the user's point of view, but less so from the point of view of urban design, as it ignores regional building styles and urban design. A conflict?
Christine Degenhart: A uniform design is already hardly conceivable due to the local characteristics to be found in each case. In addition, guidance systems consist of various already existing structural elements, such as building edges, walls, ledge stones or other tactilely detectable components. At danger points, which mainly include crossings along roads, standardised floor coverings are usually used, which are tailored to the respective user groups with appropriate coding. These surfaces are also suitable for closing gaps to existing guidelines or for public transport stops.
Many cities and municipalities started with the installation of appropriate systems partly at different locations in the town and/or at a time when standardised construction methods were still in the distant future. This means that they committed themselves early on to a particular system that cannot simply be replaced today. For this reason, independent solutions developed in many places, which are strongly oriented towards regional characteristics, which can be seen, for example, in the choice of materials. Not infrequently, of course, this has resulted in beautiful contributions to building culture. Realistically, it can be assumed that a uniform coding can be achieved within a city, or perhaps even within a district. Residents and users live with it every day, and guests can find out about the logic of the local system in advance of their trip, for example via the tourism portal.
Oswald Utz: Where guidance systems are required and are being installed, I advocate a system that is as uniform as possible. It is not acceptable for every municipality to have its own system, for example at bus stops or road crossings. I cannot understand or take into account the urban design arguments. No one would think of designing separate traffic light designs or different traffic signs in each municipality from an urban design perspective.
Do you already have an idea of how accessibility in outdoor spaces will function according to the two-senses principle in 2023? And: can you imagine that the new technologies will very soon enable innovative guidance systems here that will make structural systems superfluous?
Oswald Utz: The DIN 18040-3 planning principles for barrier-free construction in public transport and open spaces offers implementation options that make planners' work considerably easier.
The new technologies can currently only be used as a supplement, as many users do not have accessibility and usability. Even five years from now, there will still be people who cannot or do not want to use technical possibilities due to physical, mental or psychological disabilities. Here, too, I would like to reiterate my basic conviction: A barrier-free city is a people-friendly city and this must be the claim of landscape architects*.
Christine Degenhart: The so-called performance principle of the DIN 18040 family of standards includes precisely this option: the technical development potential is enormous, but cannot be predicted exactly in detail. A standard must therefore imply their applicability. This is achieved through the formulation of protection targets, which certainly leave room for manoeuvre in the choice of means. In my opinion, digitalisation will simplify many things for a large proportion of people with disabilities, and make many things accessible in the first place. However, the dependence on energy, on radio networks and the comprehensibility of digital information should not tempt us to neglect the built guidance systems that distinguish each place and make it unmistakable.
Date note
On Thursday, 28 June 2018, the bdla Bayern in cooperation with the Bavarian Chamber of Architects is organising a full-day specialist day at the Haus der Architektur on the subject of accessibility in outdoor spaces.
Topic reference
The Bavarian Chamber of Architects will soon publish a new "Guide to barrier-free construction according to DIN 18040, Part 3 - Public transport and open space". This can be ordered free of charge from the office, This email address is being protected from spambots. You need JavaScript enabled to view it.. The guideline and the work report of the highest building authority (article no.: 03500177 / 03500181) can be ordered here free of charge.

Further links

Comments
Send us your opinion via This email address is being protected from spambots. You need JavaScript enabled to view it.. We are happy to publish serious contributions here if you provide us with your name, job title and place of residence.
Latitude:

0

Longitude:

0
---
Landscape Architecture
Announcements
Association